Lessons in Brand Love
Written by Becky Bruso
I love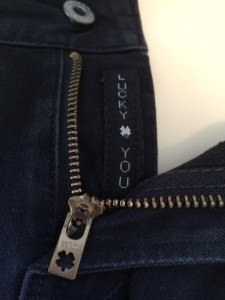 my Lucky jeans!  Why?  I asked myself? Is it because they have an awesome fit?  Great style? Look great, or simply make me feel fabulous when I wear them?  Not to mention, they wash well and keep delivering the same style, fit, comfort as the day I bought them.  
All of this might be enough, but I feel an odd sort of attachment to them. 

 So much so that I began to look deeper at my experience of wearing these jeans.  
I have other brands I have purchased again and again over the past few years.  I can rate these other brands with a strong like but I do not love these other brands.  
In fact, I have even replaced these other favorite brands with complimentary brands a few times over the past several years.
That sure doesn't sound like love.  
So, just what makes me love these jeans so much and what has caused me to admit this publicly?  
Now, looking at the exterior of these Lucky Jeans, they don't really have any distinguishing marks that shout out, "I AM WEARING LUCKY JEANS!"
Unlike some other popular brands which have massive gold or lettering on their garments to help their wearer shout out their brand choice.  They could be any brand by looking at the exterior, so no-one really knows that I am wearing this brand. But I do! 
Being a techno marketer, I have a  strong interest in brands that work and stick.  Not to mention wanting to delve into the why of their tactics.  When a company or product does something at the extreme good or bad end of the spectrum, I believe we can learn from this.  So, I have decided to devote this blog article to writing about a brand which I have found to be at the good or even excellent end of this spectrum. 
Lucky did something different, they appeal to me and other consumers on an emotional level.  Who doesn't want to feel lucky?  
Every time I pull out these jeans to wear them, I am reminded that I am lucky! What an awesome way to start the day!
Take a look at the inner label next to the fly zipper.  It says  LUCKY YOU!  With a shamrock! Simple, elegant, pointed, and memorable.  The little four-leaf clover between the word LUCKY and YOU is a nice visual.
We all know that four-leaf clovers have the myth of rareness to drive their demand.  Yet, here on our jeans, we have not only one four-leaf clover, but two!  The second is silently and dutifully sitting on the metal zipper tab for our viewing pleasure. Again, letting us know that we are lucky and invoking a sense of happiness and exclusive rareity with this message.  
Top Branding Lesson 1:  Happy Brand Messages are More Memorable
Lucky took this branding and used it to define an internal state we all can't help but want.  Being lucky makes us feel good and the goal of most people is just that:  To feel good.
Lucky does this by appealing to our happy emotions and reinforcing this message on an up close and personal level.  Every time I hit the restroom throughout my day, I am again reminded that I am lucky.  
The label of my jeans is always visible to me to keep this brand message alive.  
Not only does this make me smile and make me feel good but it makes my Lucky Brand Jeans experience stick in my memory.  This sticky message is the heart of what Chip and Dan Heath describe in their book "Why Some Ideas Survive and Others Stick: Made to Stick" (A recommended read for self-employed, business owners and marketers).
I believe this upbeat and sticky message reinforced throughout my day when I wear these jeans creates this happy experience.  I think this is just what makes me love my Lucky Brand Jeans.  What is a better brand success story than this?  
Top Branding Lesson 2:  Successful Brands Live in the Minds and Hearts of their Customers
Successful brands do far more than create a product; they build a positive experience around this product.  The experience allows the customer to relive it again and again, thus reinforcing itself in the minds and hearts of their customers.
Creating a relationship with the brand in the minds and hearts of the customer is the way to make a brand stick.
From time to time I will be writing about businesses and what I think about a project or product.  I believe we learn best by doing and seeing real life examples of business cases in action.  Since I will write about these experiences as I find them or they find me; I have not planned a regular day to publish these.  At least at this time.
I would like to appeal to you, my readers.  Please send me examples as you find them so that we can all learn collectively.  Look for these stories under the hashtag #bizpalextra on Twitter.