"Not just any action, but right action." unknown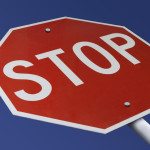 When starting a business, many decisions and actions to achieve this goal must take place. The temptation to do a little bit here and there to chip away at all the edges of the iceberg is great. This is a flawed tactic when the business plan is fluid and dynamic. Lately, I have a scattered attention span. I am taking action and executing many tasks.
My state of constant motion made me realize I was going really fast in circles and not perfecting one specific idea or concept to its fullest potential; taking many giant steps when all I needed were baby steps.
This activity was fueled by my irrational need to replace all my past income immediately with the new business. Irrational, impossible, and only serves to make me irritated.
Irritated at myself for not finding income, impatient at my lack of focus to clearly define the way to get there. These thoughts only wanted me to take more action to produce something, anything…
In the need to find a business name and gauge the acceptability of my service ideas; I gathered up a few people and held a focus group. I was no-where near ready for this activity but executed on it anyway. What I learned from this group was that I was not ready. Wow! Insightful, I know my readers will be startled by this unforeseen revelation!
In this same week, I met with another entrepreneur and presented my ideas for consulting. When I talked about vague offerings with no value proposition defined for the client; this person correctly identified I was really not ready to go to market. Hmmm, and, I thought I was ready to add another new great service idea. In that chat, I was not able to get across the value my services bring to a client. A fact I had failed to recognize.
Advice is easy to come by, but good insightful advice such as the Aha moment this business person provided is rare. Recognize and use these pearls wisely! I needed to get back to basics and figure out my core competencies.
I put the brakes on, realizing a re-grouping is in order. My new mantra will be slow purposeful action based upon well thought out and strategically based decisions. Boy, do I have a lot of work to do!