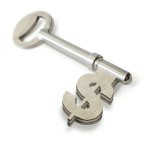 Author:  Becky Bruso
When I began going to networking events and people asked me what sort of consulting I did, I would recite a list of things typical of what I had done and could do.  I was trying really hard to appeal to everyone and in effect, make everyone my customer.  Typically, not everyone is meant to be your customer unless you seek to appeal to the mass market.   I needed to answer the key question, for whom am I creating value? 
When deciding for whom I am creating value, it became clear that some groups of customers would be extremely interested in my services and others would not.  To find the value in the eyes of my customer,   I needed to look at what moved them.   What are his or her pain points? 
I used the Business Model Canvas's Empathy Map to help me out with thinking through the eyes of my customer.  This model uses the five senses to help you think, hear, see, and feel what your customer experiences. 
Using the broad target market I identified as small businesses seeking to root or grow their businesses; I tried to put myself inside the mind of this customer to imagine what they might be thinking and how they might act with their peers and who their key influencers are. 
I projected that these individuals might have strong aspirations to build a better life for themselves and their families by starting their own business.  My thought was this customer has a strong desire to drive their own destiny.
They, like most of us, are highly influenced by their peers, friends, and family.  I projected their unspoken fears centered around failing by being out on their own and they may be frustrated with mundane aspects of either running a business or getting one off the ground. 
I felt a pain point as their not having a guide on how to move through the various decisions and actions they need to take to start up or run a business.  People who want to start up a business are highly self-sufficient and pride themselves on being able to figure things out for themselves. 
I thought about this group of people and wondered what sort of service would pique their interest and be cost effective for them, and, also be one which would produce income for me.  From this analysis, I came up with my niche market:  Individuals Seriously Interested in Starting a Business or Individuals Actively Pursuing a Start Up or Growing their Business.