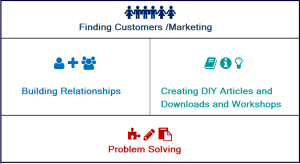 Author:  Becky Bruso
Now that I know who I will service and what I will bring to these customers; I am ready to identify the key activities I need to be in business.  From looking at my proposed value proposition of offering free content and DIY Downloadable guides to businesses in growth mode; it becomes clear there needs to be a key activity to generate all this content.  To do the workshops I plan to have, I also need to develop the workshop content and spend time working out the delivery of this content. 
To reach my potential customers, I will need to engage in marketing, networking, and relationship building.  Each of the elements from the value proposition, customer segments, and channels should complement and support each other. 
It really is that simple, on paper.  In practice, it means I will be splitting my time between selling my ideas to customers and creating the ideas to sell and delivering the services to my customers.  All of these key activies need to be based upon a strong base ofproblem solving techniques for myself and the businesses I serve.   
From these key activities, I can now identify what resources I will need in place to carry out the key business activities I identified.  Resources typically refer to people, assets, processes, finances, inventory, and computer systems.
Some businesses might need fleet service delivery to bring their product to market or perhaps a physical location to house their store.  For some businesses to experience success; they might need to assemble both buyers and sellers.  For an advertising revenue model based upon free content to work, a strong reader base must be present in order to experience sales. 
My key resources will be the intellectual capital I will develop in the form of the articles, workshops, downloadable guides, and process tools to help businesses with their day to day operations. I am a critical resource for my business as the intellectual capital will, for the vast majority of the items, be developed by me.   
Presently, the bulk of the work I will do to create the content will require human capital versus financial capital.   My business model's financial resource requirements are presently limited to maintaining the web site presence. Eventually, I will need to secure a physical location to deliver the workshops.  So, my financial key resource requirements are likely to change in the near future.   
An additional key resource to make my business work is the web.  My website will be a critical element of my key resource mix and will house my web content.  Typically key resources cost you money and/or time to produce and are areas of high investment for your business to succeed.