Author:  Becky Bruso
Read on for part 2 of a series which takes the personality traits developed from a career assessment test and maps it to the skills I liked performing the best and excelled at in past jobs.   The purpose of this exercise for me was extremely critical as my business model calls for me to deliver a service.  I needed this information to define relevant services for my business based upon my core capabilities.   Doing these two exercises helped me to identify, and in some cases, confirm my core capabilities.   
Refer to the prior post where I identified past roles and the one job skill performed well in each which is part 1 of this series defining core competencies. 
I used a personality test result similar which evaluated what is termed as the Big 5 in Psychology.  You can take a lighter weight version of this big 5 personality test to begin your own assessment.  
Personality Dimensions for Becky Bruso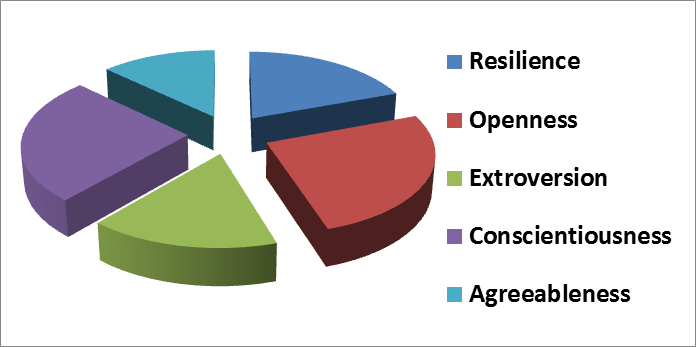 As you will see from the chart at the left, I was on the high end of the scale for Openness and Conscientiousness.  The openness trait measured 3 dimensions on a scale of 1 to 10:  Imaginativeness versus Down to earth; uncomplicated vs analytical; and Variety Avoid versus Variety Seeking.  The 3 dimensions for the conscientiousness trait were unorganized versus organized; Independent versus diligent; and easygoing versus achieving.   Scoring higher in these two, according to the test, made me more imaginative than down to earth; more analytical than uncomplicated; and more variety seeking than routine seeking.  For the higher conscientiousness score, the test pegged me as organized, independent, and desiring achievement. 
My score on the resilience aspect was the next highest which is important to an entrepreneur as one of the central tendencies of those with higher resilience is the ability to expect setback and failures as well as being exposed to risk.  In this realm, higher scores also indicate the ability to work with challenging or demanding personalities and working in the public spotlight.   
If you have downloaded my MS Excel Core Competencies Workbook, the graphic above corresponds with the Step 4 tab. 
Looking at each of the roles I held in the past, those which had higher occurrences of allowing me to express more openness and conscientiousness were the ones I preferred the most. 
Taking into account the skills I liked the best and did the best at in past jobs, I then looked at how significant each of the personality traits were  to perform best in this task.  I rated the personality dimension as high if the task strongly required this personality trait and low if it was not strongly required.  I used medium to note tasks which didn't strongly require the personality trait one way or another.  This is my subjective interpretation of these traits.  I then arrived at the next grid.
The following table shows the job skills I excelled at with supporting evidence that my personality aligns with the skill nicely.    This table corresponds with Step 5 of my MS Excel Core Competencies Workbook if you have downloaded it. 
Skills Liked from Past Jobs
Key Personality Traits Required to Perform the Job

Personality Dimension

Openness
Conscientiousness

Resilience

Extroversion

Agreeableness

Process Streamlining

High
High

Low

Low

Low

Data Analysis

High
High

Low

Low

Low

Interpreting Business needs and problem solving

High
High
High

Low

Low

Freedom to explore and devise solutions

High
High
High

High

Medium

Create solutions to administrative business problems

HIgh
High

Low

Low

Low

Challenge Existing business states to create new

High
High
High

High

Medium

Learning new skills; working with others to problem solve

High
High
High

Low

Low

Greeting and Talking with Customers

Medium
Medium

Medium

High

Medium

Assisting and helping solve issues

Medium
Medium

Medium

High

High

Selling to others using creative approach

Medium
Medium

Medium

High

Medium
The bolded table content cross references those skills which require the higher end of the spectrum for successful performance on the personality chart.    For example, problem solving where the solution is not known in advance requires creativity, analytical thinking, and a variety of tasks as well as the ability to tolerate trial and error to arrive at the solution.  I was able now to look at the data and find correlations between the skills I excelled at and enjoyed performing and the personality traits which are needed to perform these aspects of various jobs.  You may review my personal reflections on this exercise.
My middle of the chart scores on the extroversion dimensions together with my task preference for greeting and talking with customers; assisting and helping solve issues; and creatively selling to others revealed another core capability as building customer relationships.   My constant desire to learn new things and solve problems revealed my abilities at learning and leveraging new knowledge and using this to provide creative solutions to problems.  Looking at the chart, tasks involved in these activities always received a high score on the personality side.   
Now I have my three core competencies for building my service model.
Ability to build relationships with customers and business partners

Ability to provide knowledge, information, and tools to help businesses start up and grow

Ability to solve problems related to business operations
Check out my previous  post in this series of how I used my past roles to identify skills I excelled at and liked in past jobs.   Click on the download link below to get my Core Competencies Ms Excel Workbook.
[wpdm_file id=1]