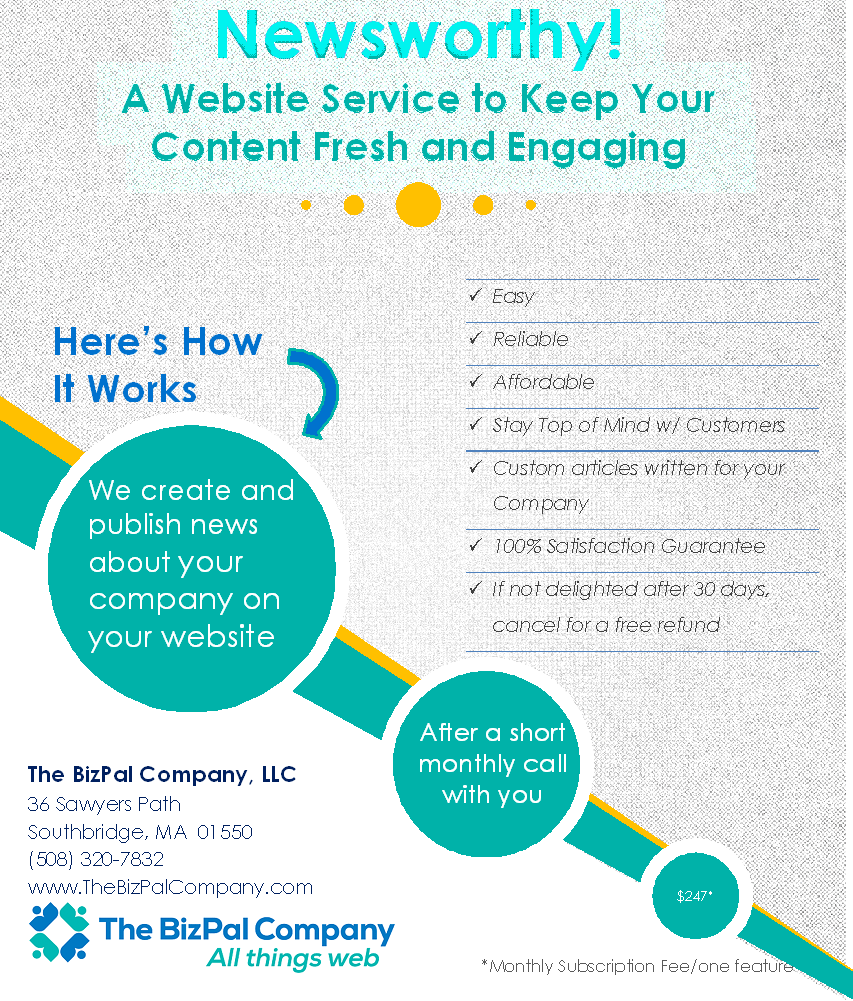 NewsWorthy!
$ 247.00
A Website Service to Keep Your Content Fresh and Engaging
The new rules of marketing say 
"You Must Publish!"
But who has time to tend to your business matters and write and publish fresh content?
 😥 Plus, we know this is probably one of your least favorite tasks to deal with writing and updating your website. 
We Can Help You Bridge the Gap to Publish Regularly
Let us take care of writing your news content for you each month
Easy
Reliable
Affordable
Stay Top of Mind w/ Customers
Custom articles we write for your Company
100% Satisfaction Guarantee
If not delighted after 30 days, cancel for a free refund
Here is How it Works
Your Role:
Each Month, we will call you for a short 20-minute conversation about what is new with your business.
Our Role:
We'll craft a news item personalized just for your organization, we'll send you the copy for review and approval  (1 revision)  after you approve the copy, we'll post it on your website!
No need for you to be caught up in the details of producing and publishing your monthly fresh content! 
The basic newsworthy service is a once monthly edition.  More frequent editions are available if you needs are such.
Here is How to Get Started
We'll call you to finalize the setup details
Next, we'll schedule our Monthly Call with you
After Monthy call, you'll receive a draft of your article for approval
One Free Edit is Included (see details below)
We'll publish the article on your website
You'll be free to work in your business
If after the first month you aren't satisfied, you may cancel your entire service for the remainder and we'll give you your money back for the first month's subscription fee. 
$247/per month
What you need to give us to get started.  Logon and administration rights to your website. 
We do have a one-time $97 setup fee to get the news section added to your website. 
Some conditions may apply:  The setup fee may vary based upon your website platform.  We give the opportunity to do one edit included in the monthly subscription.  Multiple edits per month will incur a per edit cost of $57 each. 
In stock